Maintaining Your Refillable Carbon Filter
AC Infinity always aims to enhance the indoor growing experience, and with our newest release we proudly present our most ambitious product to date. Building off of our previous accomplishments in air filtration, AC Infinity introduces the wholly original refillable carbon filter. Featuring a first-of-its-kind replenishable design, this filter offers a cost-effective and environmentally friendly solution to odor control unlike any other device on the market. Read on to learn more about maintaining your kit and how to best enjoy its unique capabilities.
Reusable Patented Design
This refillable carbon filter kit has all the features of our standard filters with one crucial difference—you will not need to replace it. Instead of disposing of entire filters, simply pour out the old charcoal when it has been used up. The ability to refill the carbon bedding will effectively cut down on waste while increasing your savings. In fact, the initial investment of a pre-loaded filter and one refill equates to two traditional carbon filters. From there, each refill can be purchased for a fraction of the cost of an entirely new filter.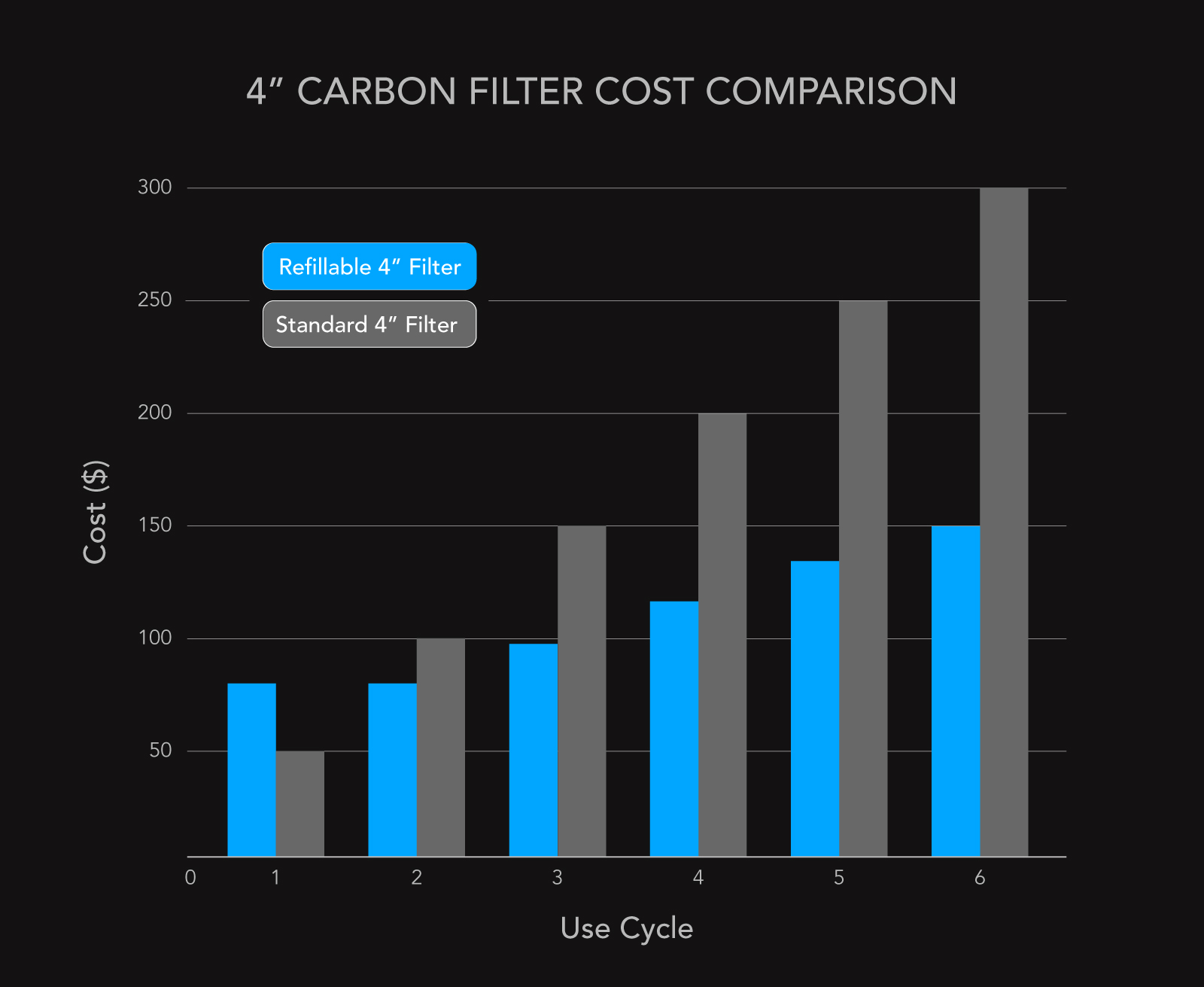 Easy to Refill
Refilling your filter is designed to be a quick and easy process. Start by simply twisting off the carbon filter's flanges. From there, remove the rubber seal to access the inner chamber. Dispose of the expired charcoal, which is biodegradable and can be composted or used in gardening. Next fill your filter up to the designated line using the included funnel and scoop. Be sure to shift the charcoal as you go, so that it is firmly packed within the chamber. Finally, reapply the seal and twist the flanges back on. Your carbon filter is now ready to continue scrubbing unwanted odors.
Added Efficacy
Similar to previous models, you can extend the lifespan of each refill for even greater efficiency. Included pre-filter cloths provide a form-fitting, durable barrier against dust and debris. These can be easily washed and provide up to six months of filtration support. Additionally, the easy-to-remove flanges can be reversed, helping to further prolong the activated carbon's life cycle.
Be among the first to reimagine how you grow. With multiple filter and refill sizes available, this next-gen filtration kit is a sustainable solution to improving air quality in any growing environment!